2000 sqm, ToHa Building Tel Aviv Year of completion: 2019
The technological firm brand, purple and yellow, is part of the user experience, blowing everywhere and in any form. The functional spaces of the reinvention of the term "open workspace" indeed is open but with team privacy with partitions.
הברנד של החברה הטכנולוגית, בצבעי סגול וצהוב- הינו חלק מחווית המשתמש, וצץ בכל מקום ובכל צורה. החללים פונקציונליים מתוך המצאה מחדש של המונח "סביבת עבודה פתוחה" – אכן פתוחה אך עם פרטיות צוותית בעזרת מחיצות.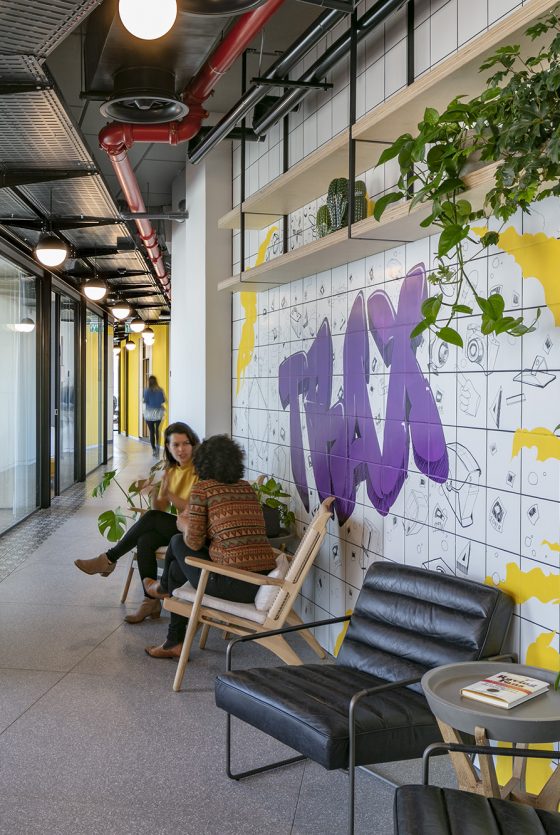 מעצבת אחראית: יעל פרנקל, יעל בקרמן / ניהול פרויקט: דורון בלוך, עידו מוזר / קבלן ביצוע: תדהר / גרפיקה: סטודיו לוקה / ריהוט:  פורמלי – SPACE IT, א-פורמלי – PICKUP united-seats / אקססוריז: CONTRAST / מחיצות:  CREDO / שטיחים  INNOVATE  / שטיחי זריקה וטקסטיל – BADIM TLV / תקרות: גולמט / תאורה : אילנה כלפון / נגרות : WORX / קרמיקה: שרוני / גינון גג: אינטרפלנט, ורטיקל ארט / צלם:  עוזי פורת
Designer: Yael Frankel, Yael Bekerman \  Project management: Doron Bloch, Ido Mozer \ Contractor: Tidhar \ Furniture :Formal – SPACE IT, unformal – PICKUP united-seats \ Partitions: Credo \ Carpets: Innovate, BADIM TLV \ Ceilings: Golmat \ Lighting: Ilana Calfon \ Carpentry:WORX \ Ceramic: Sharoni \ Landscaping roof: Interplant, Vertical Art \ Photographer: Uzi Porat