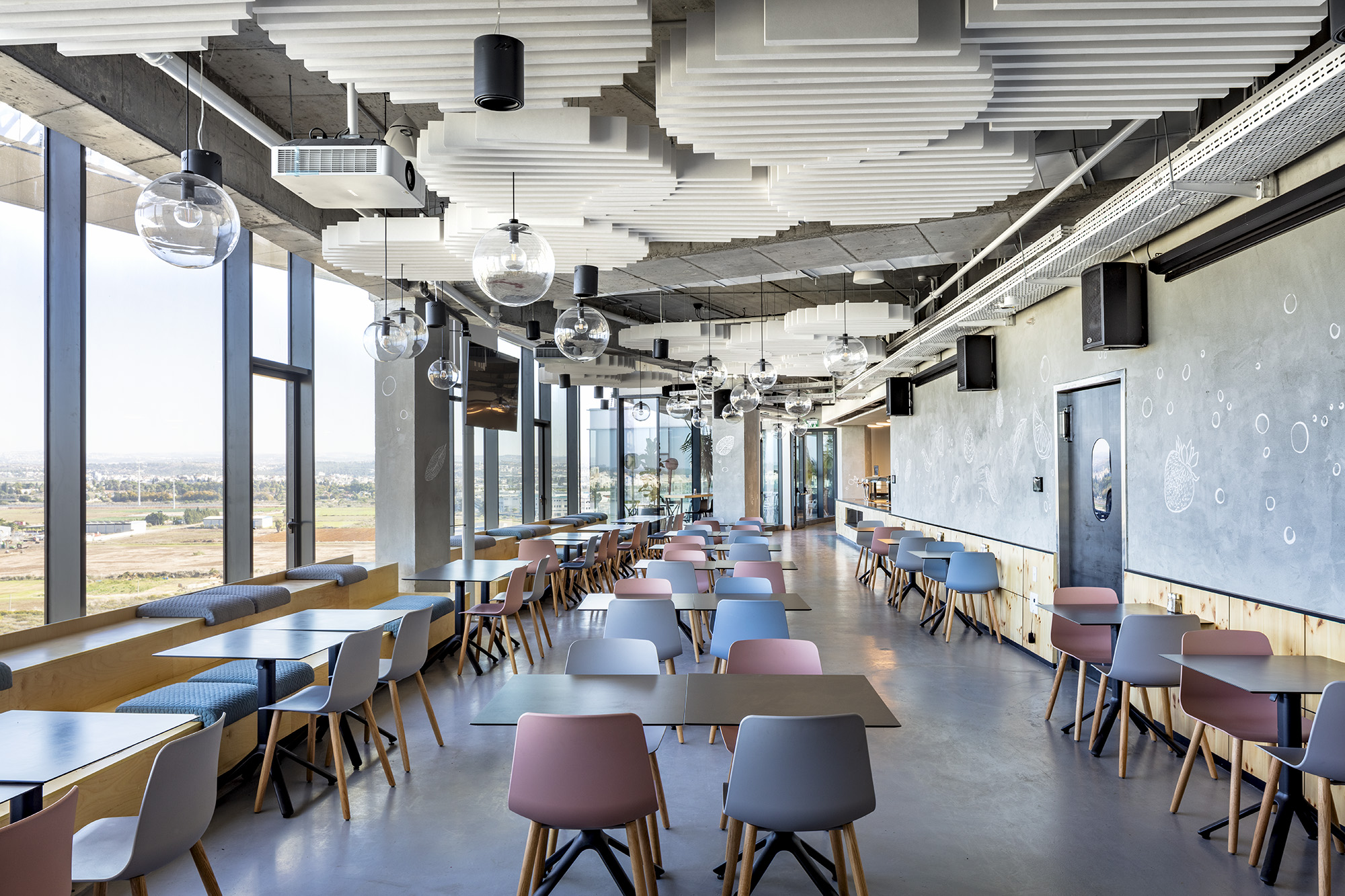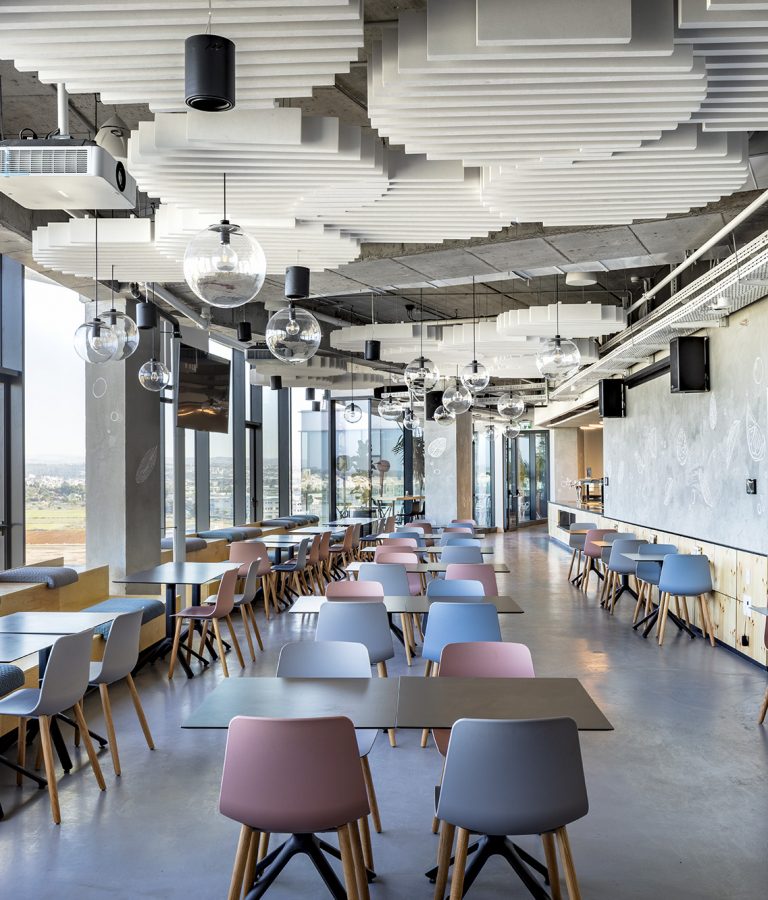 4800 sqm, Kfar Saba. Year of completion: 2019
SodaStream is an Israeli company operating worldwide.
The company's leading values are recycling, ecology and the environment; they aspire to embed these in their designs.
This design is inspired by the company's five central principles leading to the extensive use of recycled materials. It includes lighting fixtures with waste leftovers, and a conference room wall comprised of plastic bottle disposal containers, collected on a Honduras beach cleanup and flown to Israel. The raw, natural look is created by a concrete floor, birch wood paneling and a mineral-bonded wood wool board ceiling.
The design also creates opportunities between intersectional company programs we call "bubbles". Each bubble was designed to link different departments. With industrial and graphic designers, we've incorporated "upscaled" machine pieces and SodaStream bottles.
סודה סטרים. חברה בינלאומית עם קריצה של שובבות שבאה לידי ביטוי באזורים      . שונים במתחם  החדש
החברה  שעל דגלה חרוטים הערכים מחזור , אקולוגיה ואיכות הסביבה , ביקשה לקשט ולהטמיע ערכים אלה גם בעיצוב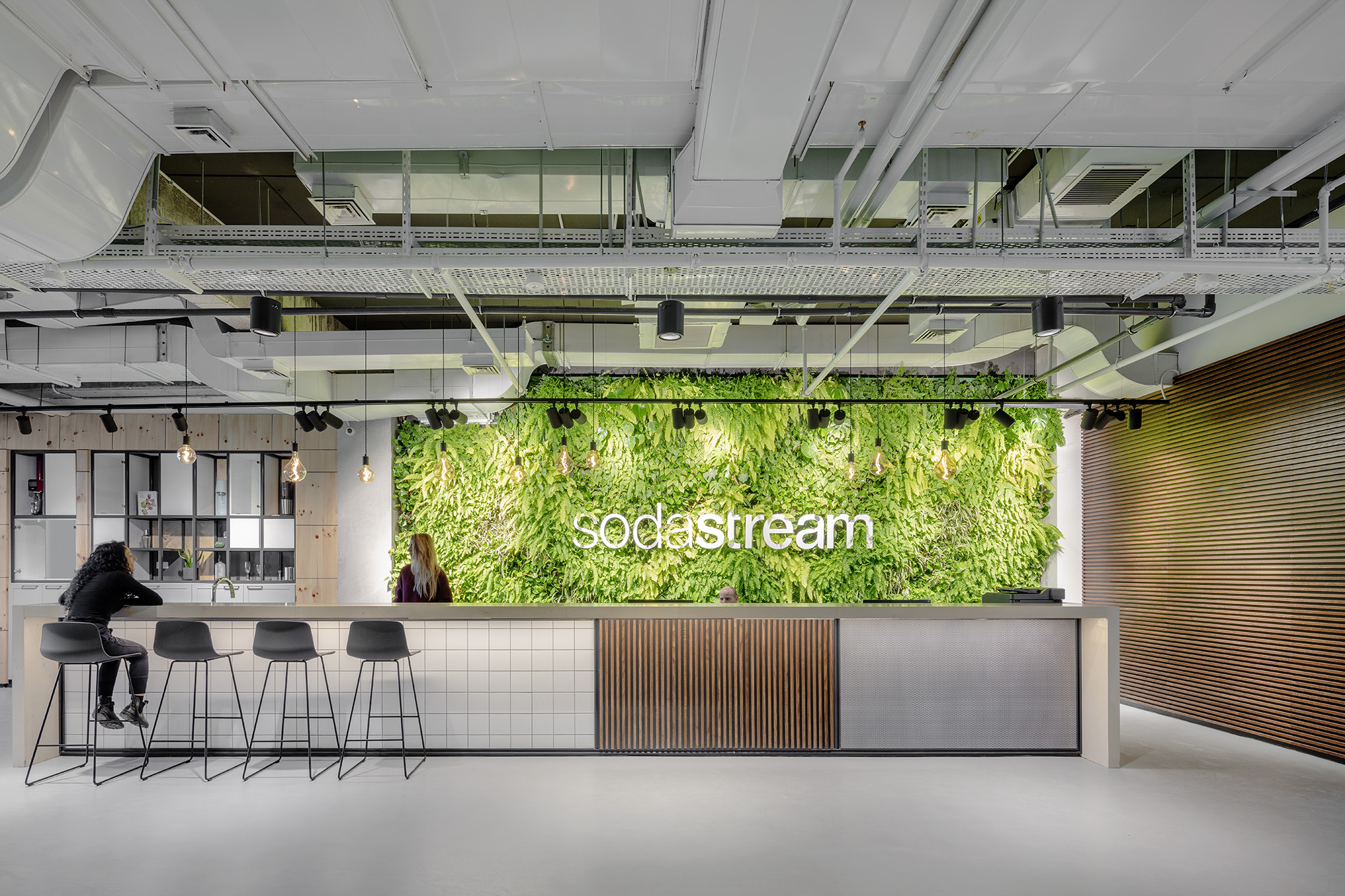 מעצבת אחראית:   יעל בקרמן, יעל פרנקל \ ניהול פרויקט:  דוד רז \ קבלן ביצוע:  א. שדה \ גרפיקה : סטודיו HUBE \ ריהוט:   וקסמן \ פרקט : כרמל ביזנס \ תקרות : גולמט \ אקססוריז: CONTRAST \ מחיצות:  אינובייט \  שטיחים : אינובייט  \ תאורה : צח וטל כהן \ נגרות : ספירו \ קיר ירוק:  גרין וול \   צילום:  עוזי פורת
Designer: Yael Bekerman, Yael Frankel \ Project management: David Raz \ Contractor: A. SADE \ Graphics: HUBE studio \ Furniture : Waxman \ Parquets: Carmel Business \ Ceilings: Golmat \ Partitions: Innovate \ Carpets: Innovate \  Lighting: Tal and Tzach Cohen \ Carpentry: SPIRO \ Green wall: Greenwall \ Photographer:  Uzi Porat